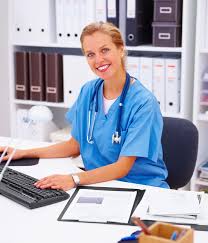 Serving as the face of the practice- an expression of its philosophy, attitude and values, lies the front office staff of your practice. Despite their importance, this position can be a challenge to retain.
Front office staff, such as receptionists, phone operators, medical secretaries, and transcriptionists handle high levels of stress, with low compensation. Due to the nature of the position, it should be a top priority to hire and retain top-quality employees to fill these roles.
Try something different, right from the start: Pay more for the right candidate. If you pay someone more than what they think they are worth, they will work up to that level. If you pay someone less, they will work down to that level.
It may not be as easy to keep the stress level low. One of the main stressors for front office staff is interacting with unhappy patients — people who are unhappy simply because they are not feeling well. To lessen the likelihood of burning out the person at the front desk, rotate this throughout the practice. You will enjoy the benefits of cross-trained staff members as well as increased loyalty. Furthermore, you will increase the odds that the person at the front desk will greet your patients with a smile, make them feel welcome, and convey a happy attitude.
Here are some more tips for getting and keeping top-notch front office staff:
Promote professionalism. Treat your front office staff with kindness and respect.
Beyond a friendly greeting in the morning, be sure to supply your staff with the proper equipment to complete their job. Keep equipment working and current. Educate staff on how to use the equipment and make it convenient for them whenever possible. For example, if the receptionist needs to scan or copy a patients' insurance cards, place the scanner or copier near her desk.
Uncover weaknesses. Even with the best intentions, front office operations are prone to kinks. At times, phones may go unanswered and patients may reach the exam room already dissatisfied. These bumps can lead to sinking front office morale and even resentment among staff. A staff fallout can then affect patient flow, feeding an ongoing negative cycle.
Hold all staff to the same standards. Commonly known as the mini-max performance rule: "The minimum you get from one employee is the maximum you can expect from another in that position in terms of performance."
Fix the phones. Periodically use a chart to track incoming calls. For example, to track how many calls are made to schedule an appointment, talk to a nurse, refill a prescription, or get a referral, create a matrix with hours of the day along the right and the reasons for the calls across the top.
For one week every quarter, have the staff track the amount of and what type of calls come during certain periods of the day. This tool will allow you to determine which time of the day receives a heavy call volume, which will allow you to staff accordingly. By tracking what is coming in, you can proactively plan rather than react.
You might also consider adding or tweaking your existing automated phone system. Program your system to have the greeting first, then the identity of the practice. The first option — after directing callers with a true emergency to go to the emergency room — should ask callers whether or not they want to make an appointment, then transfer them to the operator. You can also include an option to hear directions to the practice or refill a prescription.
Although people are used to such phone trees, make sure your message and directions are clear, available, and friendly, especially for new patients. Remember to direct patients to your website for access to online services.
There should not be a backlog of phone calls at the end of the day. Voice mail should be checked every hour. If there are too many voice mails to keep up with, you need to get someone, such as a float nurse, to provide extra help.
Constantly seek solutions. You can eliminate a lot of phone calls by using a patient portal on your website. A portal is an interactive tool that can answer patients' questions, allow them to schedule appointments, deliver test results, process prescription refill requests, provide directions to the practice, and generally save staff a tremendous amount of time, while improving service to your patients.
Ask staff for suggestions. One of the best ways to streamline your front office is to ask the staff for suggestions. We think that as managers we know the answers, but we are not doing front office tasks every day. You will get higher buy-in from the staff if they are carrying out their own ideas.
Brian Torchin
| HCRC Staffing | Brian@hcrcstaffing.com | www.hcrcstaffing.com
Tags: brian torchin, medical staffing