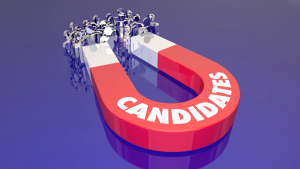 Need workers but not looking forward to combing through resumes from applicants who clearly didn't read the job description? In a best-case scenario, an employer will recruit a talent pool of the most qualified candidates with a high aptitude and passion for the work.
Traditionally, that involves reviewing endless data and choosing, at best, 10 percent of those who have applied. Then, there's the rest of the process — phone interviews, aptitude tests and in-person interviews. How are you supposed to attract the cream of the crop when you have to go through that tedious process?
You start developing relationships with prospective candidates before you need to fill a spot on a tight deadline. You network and outline your specific needs from the start. Here are a few tips to secure the best candidates for your company.
1. Take advantage of professional and social networks.
An essential career development skill you had to learn from the jumpstart quickly is still invaluable to hiring the best workers. The only difference is that you've built a strong network of industry contacts through memberships with associations and trade groups, among others. You have a network to tap into to find the recruits that are the best fit for your company.
Not only that — you have access to your employee's networks. Part of being in a professional network is helping your fellow professionals expand their access to job opportunities and resources through employee referral. Employees will be happy to help you source the right candidates. Encourage your employees to network and participate in conferences, trade shows and industry groups. In fact, pay for it because it will pay off for your company.
You'll need to be ready with a contact plan to routinely and systematically reach out to preferred candidates with the job description and information online, through email, mail and fax. Encourage employees to forward an email to a prospective candidate in their network they think will fit into the company culture.
More companies and recruiters are utilizing social media as a hiring tool:
85 percent of recruiters use LinkedIn.
55 percent of recruiters use Facebook.
47 percent of recruiters use Twitter.
For example, Facebook lists jobs like other job search engines, but many companies are posting directly on their page with tangible contact information to reach out to a live person on staff. Twitter allows you to take advantage of hashtags, and other social media platforms, such as Snapchat, offer unique snapshots into company culture as a recruiting tool.
2. Your website is prime recruiting real estate.
Job seekers are encouraged to research the companies thoroughly they apply to just as employers check up on candidates. Job seekers, especially new graduates, are likely perusing your website right now, and you're missing out on an easy and effective recruiting solution.
Your website already has helpful information for job seekers, such as projects you're currently working on and how your staff has been recognized in the organization and the community. What it may be lacking is an open door policy to encourage talent to reach out to the company. While job descriptions typically say "Don't call us, we'll call you (if you're qualified)," pre-recruiting the best talent requires the adoption of reverse psychology to the traditional candidate search.
On your website, invite talent in by listing a prominent "Join Our Team" area that gives a bite-sized but in-depth overview of the company's culture, values, mission and vision.
Job seekers who have fallen in love with your company will be able to submit their resume to be placed on file and receive emails with relevant job matches as the company need arises. Who knows? You may even find the perfect freelancer you never knew you needed.
3. Job descriptions are not a list.
Fun anecdotes that showcase an employer's ability to laugh does pull job seekers in, but writing engaging and targeted job descriptions is more involved than throwing in funny one-liners.
You have listed the basic requirements and preferred skills, but help the candidate see themselves in the role by writing these descriptions as "a day in the life of our new employee that could be you!" Describe the role's daily duties in detail as well as realistic opportunities that will likely come their way. Describe the company culture and work environment. In this area, many companies usually place "operating heavy equipment" and "exposure to loud noise," but balance boring descriptions with pizazz and honesty.
Strive for transparency and creativity. Keep titles and headlines clear and concise. Job descriptions that take form solely as a list have no soul and create boundaries between companies and candidates.
Avoid combing through endless applications and attract the best workers. Take advantage of professional and social networks. Use your website as prime recruiting real estate and showcase the company's vision, values and personality, which should also be reflected in engaging and targeted job descriptions. Use job descriptions for more than a list — help employees see themselves in the role.
If they see it, they will come because you've built it. Your talent pool will constantly replenish itself as you attract the best candidates who you're more likely to retain because they truly love what they do and where they'll be working.
Have a great day!
Brian Torchin
HCRC Staffing