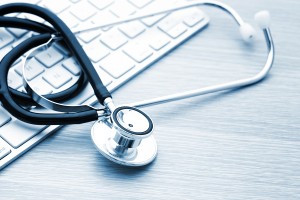 In today's modern age, marketing and media has becoming an essential part of organizational growth – even for medical practices. The truth is, more and more people have transitioned to seeking information on the web, including health information. A Pew Research Center Report states that "72% of internet users said they looked online for health information within the past year". That means doctors, practices, and hospitals need to "get with the times" and establish an online web presence. If not, you might be out of a job in no time.  Marketing platforms can generate exposure to your healthcare facility and what services you offer by allowing patients and other referring doctors to find you on the top pages of Google and other search engines.
According to a survey of over 12,000 physicians, only 17% of physicians rated the financial position of their practices as "healthy and profitable". 17 percent! Yes, that means that 83% of those physicians aren't making money.
So what medical marketing and media strategies can doctors and practices apply that really work to increase profits and salaries? Here's seven:
1. Emotionally-Compelling Offline Media
Why is it that TV, print, and outdoor media still works for the healthcare industry? It's because everyone has different media preferences, and oftentimes consume both offline and online media before making a decision. In a 2012 Google/Compete Hospital Study, 84% of patients use both online and offline sources for research. Of those patients who used offline media:
32% of patients use TV for research.
20% of patients use magazines for research.
18% of patients use newspapers for research.
So it seems that offline media is still effective after all. In fact, with the right approach, it can be just as powerful as online media.
2. Search Engine Optimized (SEO) Blogs & Websites
Speaking of advertising in the Yellow Pages, say hello to Google – the new Yellow Pages. Today, Pew Internet Research says 77% of online health seekers began their last session at a search engine such as Google, Bing, or Yahoo. Search engines, like Google, have become so sophisticated for helping people find what they're looking for, that now you can literally type medical specialists or medical specialists near me into their search box and it will populate a list of the most authoritative medical specialists in your geographic area.
3. Engaging Social Media and Referral Marketing
With that being said, Social Media and networks like Twitter, should not be neglected.
Of those surveyed, one-third of them now use social media sites like such as Twitter, Facebook, YouTube, and online forums for health-related matters. The types of content that they were most likely to engage with or share on those networks included care received at a hospital or medical facility, and a specific doctor, nurse, or healthcare provider that they had a positive or negative experience with.
Social Media, however, can be used in many ways other than engaging with patients online.
4. Cost-Effective Paid Advertising aka PPC Campaigns 
The challenge for a lot of medical practices when it comes to marketing, is that they simply don't have the time. There's patients to be seen and paperwork to be done, and you're already working over 8 hours. So how could you possibly find the time to blog and be active on social media? I get it. As a healthcare marketer, I understand the challenges of time all too well when it comes to online marketing. That's why I also rely on Paid Advertising, aka Pay-Per-Click (PPC), a form of Search Engine Marketing. Paid Ads through Google Adwords, LinkedIn Ads, and Facebook Local Awareness Ads are a time-saving and cost-effective way to gain more patients, referrals, and recognition for your practice. That's why one of the benefits of Paid Ads or PPC campaigns – is being able to control your budget by setting a maximum spend. Depending on your marketing strategy, costs can range as low as $0.30 per click using Adwords, or $1 per day with Facebook.
That's why more and more doctors are turning towards PPC.
44% of users searched for doctors, and
81% of people click on a sponsored link when looking for health information.
5. Targeted Email Marketing Campaigns
Phone and Social Media aren't the only way that doctors communicate with one another or their patients either. Actually, 62% of physicians and other healthcare providers prefer communication via email in comparison to direct mail, phone calls, and in-person visits, said a MedData Medical Technology Marketing Industry Trends Report. So if you're trying to generate more referrals, then I hope you've implemented an email marketing campaign. If you haven't, then you're probably part of the 40% of healthcare companies mentioned in that report who have not implemented an email marketing strategy.
Also, don't forget to optimize your emails for mobile web devices so they're easily readable. No one likes to squint to have to read what you wrote. It's bad for the eyes, right? Regardless of eye health, my point is that people use their mobile devices for lots of reasons including reading emails from their phone. MedData says, 75% of physicians use smartphones and tablets for professional reasons, and that checking email is the top reason for using these mobile devices in the workplace. So if you've been trying to reach another doctor and they haven't responded to your voicemail messages, try an email instead.
6. Mobile Marketing for Dentists and Doctors
Mobile devices aren't only great for checking emails, but researching information across the internet as well. More and more practices are becoming mobile savvy to support the dynamic shift in how internet users consume content (via their mobile device), so that they can better reach their target market.
7. Video Marketing
Mobile isn't the only way that you can get creative with your medical marketing strategy. Online videos on channels like YouTube are very effective as well.
So if you're not marketing your practice online, how will your audience know you exist?
Have a great day!
Brian Torchin
HCRC Staffing
111 Forrest Ave
1st Floor
Narberth PA 19072
Office 610-660-8120
Cell: 267-251-5275
Fax 800-263-1547