Practicing Social: Social Media Tips for Practices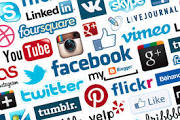 By now every business in every industry understands the value of social media, and is taking full advantage. This should include private medical practices, both large and small. It may seem like we've been beating readers over the head with this topic. It's true that this isn't the first time we've discussed the topic on this blog, nor is it the second. We've really made it a point to underscore social media's importance toward practice visibility, accessibility, and marketing.
However, in championing the use of something we feel it's important to discuss the ways in which it should not be used. Social media use continues to increase. Platforms have grown in number, and the tools and communication styles more intricate. In a previous post we mentioned how cell-phone use among several age demographics will continue to rise. It is no surprise then that social media use will increase as well, as smart-phones allow access any time, and anywhere.
Social media pages belonging to doctor's offices, Facebook in particular, will continue to see more traffic than a Los Angeles freeway. It is important that practices upload the right content. This content must be geared toward what present and future patients both want and need to see. Ideally, it should highlight your strengths and expertise, while not "overselling" your services.
Dapper, and professional
We'll cut right to it. Your practice's Facebook page is a business page, meant to represent a physical place of business. Business pages are important because they allow for targeted advertising and provide valuable data insights. Again, it is not a personal page, and you should not attempt to pass it as one. Using a personal page as a business page would violate Facebook's Terms of Service.
Once you've established a proper Facebook business page, it ought to look the part. Remember that your practice, the name on the sign outside of your office, should represent a brand. To this end, you must make sure that header and profile images are appropriate, clear, and proportionately sized. Anything less is simply sloppy and unprofessional. In keeping with this aesthetic of professionalism, don't forget the "about", and "info" tabs. This is where a prospective patient would find the link to your practice's website, and its physical address. Be sure the information here is accurate, comes up easily, and smoothly directs your patient to where they need to go.
Less SPAM in your diet
While "Spamalot" may have been a hilarious Broadway spoof brought to us by the Monty Python crew, it should never be thought of a valid social media marketing strategy. Yes, one of the main purposes of a Facebook page is to promote your place of business. Photographs show happy and attentive staff, a clean facility, and equally as happy and trusting patients. Written posts can focus on a variety of things, each in some way promoting your practice. However, your appointed social media expert would be wise not to overdo it.
Over-promoting is probably the most common way to drive down user engagement. Think of walking into a store you know and love. Now think of immediately being accosted by an overzealous sales associate intent on reminding you of every benefit of shopping in this particular store. Reminding you of every single sale. No one wants to interact with that. No one wants to be aggressively sold to. You know it, we know it, and Google certainly knows it. In fact, "overselling" like this will get you knocked to the bottom of Google's search results/newsfeed. Why is this exactly? Well, think about the main reason why our hypothetical salesman's monthly numbers might take a dive…
…
Right. So when it comes to Facebook posts, remember that few should actually be "promotional" in nature and tone.
Don't be a robot
You and your staff are caring, professional, and responsive people. If a patient left a voicemail about something important, you'd make sure it was answered. If the daughter of an aging patient sent her warmest regards for the wonderful care you've given her father over the years, you'd very warmly acknowledge it.
This kind of engagement needs to carry over into your practice's social media presence. Promoting and posting relevant content is only half of what a business's Facebook page is meant for. Just like the patients in your waiting room, your regular Facebook visitors represent your ever-growing community. You must be sure to check in regularly to respond to feedback, and engage with them. You should also remember to properly address both positive and negative feedback. Bear in mind that there is a fine line between response and reaction. Think about the language you'd use to respond to a negative review elsewhere online, and employ it here.
Brian Torchin
| HCRC Staffing | Brian@hcrcstaffing.com | www.hcrcstaffing.com