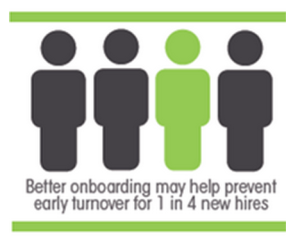 So, you've recently brought on a new hire. You underwent the lengthy screening process, and double-checked for all the right certifications. Both you, and your HR manager are convinced you've found the perfect person for the job. Which is good, because they start next week. Your role is finished, right?
Well, no, not quite. Next comes integration. Successfully onboarding staff is a very important process. Convincing you in a small room that they possessed the right skills, experience, attitude, and temperament for the job was only step one. Will those qualities manifest themselves in real time? Below are some ways you can make sure that they do.
First Impressions…
…are not necessarily everything, as the platitude states. But there is something to be said of making sure a new hire hits the ground on two feet at their new place of employment instead of head-first. The first step toward successfully onboarding a new employee begins on your time. Be sure to send this person a warm welcome letter, or e-mail expressing how glad you are that they will be joining your practice, and that you look forward to working with them. Be sure to include important logistics: what time they should arrive each day, the parking situation, heads up about weekly staff meetings, etc…
This opening communication will prepare your new hire for the culture of your practice, and this includes both work, play. If staying after five o' clock is common, let them know this. If staff get together for happy hour every Thursday, be sure they know this as well. Make sure their workspace, especially if they'll have a fixed workspace, is ready for them, and inform all current staff that they'll be getting a coworker.
Orienting your new hire
Beyond simply getting your new employee's desk ready for them, you should slot time early on for an orientation. Orientation, in this sense, is both guided, and self-directed. Take time out of your own schedule to introduce your new hire to everyone in the office. Doing so will also be a testament to your accessibility as a boss, which is something we'll discuss later.
After an informal meet and greet, it is time to let a new hire do some learning on their own time. They should spend a little time in each department so as to gain an understanding of how their coworkers approach their jobs. A medical office is full of different personalities. The understanding gained here will give a new employee important insights into their peers' personalities, habits, and work styles. They will learn how best to work with, or at the very least, around them.
Being seen, and heard
A few lines ago, we mentioned accessibility. Even if you favor a more hands-off approach, and prefer your staff to develop independence and autonomy, you should give a new employee the benefit of your time, presence, and years of experience. Make regular check-ins a habit in the first week or two. These check-ins need only last a few minutes, but implore your new hires to be candid and honest, and let them know you will be there to address any difficulties, however you can.
Your practice should, ideally, be a close-knit workplace where everyone is willing to help each other out. Early on, your new hire may have a lot of questions. They may not remember certain protocols clearly, or may need to be reminded regularly where certain things are stored. Your staff is busy. Chances are that they are overworked. Don't put the responsibility of Q&A solely on their shoulders. Be there as a point of contact. Everyone will thank you.
Listen
While they may be new, your recent hire's voice should always be heard, their opinions and ideas be taken into consideration. They are bright. They are astute. You hired them for a reason, after all. They may offer a fresh perspective on any number of issues that may pop up around the office.
Making sure your new employee knows that their suggestions, or grievances will be heard is step one. Step two is to make sure they know the procedures and channels for raising them. This is crucial, because casual, regular dissenting will negatively affect their standing with the rest of your staff.
And learn
In those first crucial weeks, you must be a private eye, of sorts. Just as your new hire will be studying the personal traits and work habits of their cohorts, you will be studying them for any quirks, or hot buttons they may have. With an understanding of how they work, you'll have an easier time of giving them suggestions. You'll also be able to stop any potential problems before they start. This includes anything that may conflict your own personal pet-peeves.
Onboarding a new employee is not a passive process. Remember that this new worker represent an investment. Any big investment must be monitored closely at first before it can grow and flourish on its own.
Brian Torchin
| HCRC Staffing | Brian@hcrcstaffing.com | www.hcrcstaffing.com
– See more at: http://3.228.224.47/blog/#sthash.regjTzUx.dpuf