Crunch Time!: Last Minute ICD-10 Prep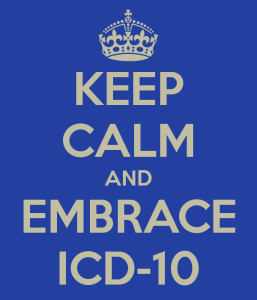 If you happen to manage a contending Major League Baseball team, the last few weeks have seen you locked in a tight pennant race, trying to utilize your players and assets in the best way possible in preparation for October. The front office has their eye on you. The clubhouse is a crackling ball of excitement and nervous tension. An entire fan-base is relying on you to bring glory to their city. Depending on how the next few weeks play out, you may or may not have a job next season.
As the head of your practice, your practice has been a club in transition. You've handled setbacks and losses, adapted to the numerous changes of an industry in constant flux, and have turned your staff into a capable, winning team. It's all come down to the next few weeks. No, we aren't talking about an intramural softball game. We are talking about the arrival of something that has haunted the dreams of doctors, office managers, and coders for the last few years: ICD-10. The October 1st deadline is fast approaching, and doesn't seem like it will be pushed back any farther. Below are some last-minute things to consider in preparing your practice for that big date.
Think in the now
An MLB first baseman covers every conceivable play in spring training, and should, by now, be able to execute a 3-2-3 double play in his sleep. We usually don't nag on this blog, but you should have been using the last several months to prepare your staff for a smooth ICD-10 transition. Nevertheless, if your "mechanics" are still a bit shaky, if certain people are still unsure of their roles going forward, then you need to focus on what will have the most immediate effect on daily operations.
If you haven't done so already, quickly compile the 50-100 most commonly used codes from the ICD-9 days (these include things like lab requests and referrals).
… … …
Got 'em? Ok. Now get to work translating them to their ICD-10 equivalents. Once this is done, you and your staff must familiarize yourselves with them. Think of this next part like cramming for a big, big exam in a subject you'd prefer didn't exist. Only, doing poorly on this exam can result in diminished revenue and various violations. They may hate you for it, but take the opportunity to drill your office staff on both code knowledge, and the technology you have in place to make sure claims can be properly made and processed, benefits eligibility verified, patient history is updated, etc… (Refer back to our post on adequate software/hardware.)
Think outside the…practice
ICD-10 affects everybody. The front-office staff, clinical staff, billers and coders, and physicians will need to use ICD-10 codes for every procedure done. But consideration doesn't stop at just you and your staff. Just because your software can handle this massive data changeover doesn't necessarily mean your outside physicians and specialists, vendors, clearinghouses, or billing services can. It's time for more "drills". Test your new system with the partners you work with most often. Think of them as the "cut-off men" accurately bridging the distance from the outfield to home plate. Reliability is key, and you need to know that they are ready to give the support you'll most likely need.
Think with EHRs in mind
It's impossible not to think about the functionality of your EHR in making the leap to ICD-10. You must be sure it is seamlessly integrated into your practice management system, that you can make claim edits on the fly, and that all prior prescriptions, referrals, and surgery dates set before the Oct 1st deadline are converted from ICD-9 to ICD-10. Beyond that, you must maintain lines of communication between your practice and your EHR vendor. Any software updates, patches or fixes made available must be applied as soon as possible. Delegate a liaison to keep in touch regularly with your EHR vendor for advice as well.
Think about the team
It's common in times like this for players to be pushed hard toward a common goal. A high level of performance is necessary, and flubs will be scrutinized a little bit closer. But it's important to remember that while you are under a high level of sustained stress managing your staff, they, too, are feeling the weight of their workloads, and the pressure to succeed. Try to show them, on a daily basis, just how important their efforts are, and how much you appreciate them. Daily bagel breakfasts, specialty lunches, and scheduled practice happy hours are good starts. Some physicians have even scheduled visits from massage therapists to help their staff with stress. There is no set formula here. Even setting some extra "gap time" aside each week for staff to get caught up on everything can go a long way.
Be creative. Be thoughtful. Most of all, get ready to dig in, both literally, and figuratively.
Brian Torchin
| HCRC Staffing | Brian@hcrcstaffing.com | www.hcrcstaffing.com
– See more at: http://3.228.224.47/blog/#sthash.regjTzUx.dpuf