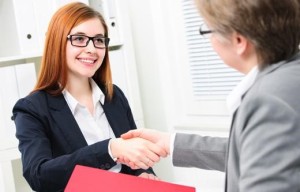 4 Secrets to Recruiting for Entry-Level Administrative Jobs
How do you evaluate potential admins who have little to no relevant work experience? These four tips can help you make smarter hiring decisions when assessing entry-level talent.
With millions of young people graduating from high school and college every year, candidates for entry-level administrative jobs aren't particularly difficult to find during recruiting. But sorting through the candidates to find the right new hire is a different story.
Many of these potential hires will have little to no relevant work experience. In these cases, you'll have to dig deeper to find what you're looking for. Here are four tips to guide you throughout the recruiting process:
1. Get specific with educational histories
This isn't just about a flat GPA number. Dig deeper, see which subjects the candidate excelled at, and look for insight as to where his or her strengths lie. If the job involves a lot of work with Microsoft Office programs, target candidates who excelled in computer-based classes. Likewise, someone who made good grades in English, creative writing and literature courses might be the right fit in roles requiring a lot of writing of memos, letters and other documents.
2. Look at extracurricular activities
While students can achieve high grades almost entirely on their own, an impressive GPA doesn't always indicate how a candidate will work on a team. During recruiting, consider candidates with a track record of success in athletics, music or other group activities. They're likely to have experience working in a group toward common goals, as well as managing their time and prioritizing obligations. For example, a candidate who worked on the school newspaper is going to have experience meeting deadlines and understand the importance of visual presentation. A band musician will be in tune with how much their own mistakes or lack of preparation can affect the group performance.
3. Ask about volunteer experience
Entry-level candidates trying to rack up experience for their resumes often turn to volunteering and community service. In most cases, volunteering involves teamwork. The same can be said about the office environment. In fact, a LinkedIn survey found that 41 percent of participating HR managers believe volunteer experience is as good as on-the-job experience. If candidates have helped run events for a volunteer organization, they'll be able to relate to tasks like delegating work, overseeing quality, and setting and keeping deadlines.
4. Don't underestimate soft skills
In a recent survey by Jobs Initiative, more than 75 percent of employers questioned thought soft skills were as important as specific job skills. While some soft skills like self-direction and adaptability are difficult to evaluate in the short span of the hiring process, a candidate's communication skills are on full display. Does the applicant know how to answer questions succinctly but thoroughly? Are more difficult questions handled calmly and with patience? Some potential hires may be too blunt, while others ramble or dance around a point. By paying close attention to candidates' communication skills during the interviews, you'll gain valuable insight to help with your hiring decisions.
Email will inevitably be a significant part of the job. If you've had email interaction with administrative candidates, only consider the ones who have an appropriate office tone. Nonverbal communication is a consideration, too. People who avoid eye contact when they're speaking, for example, may lack confidence or be shy about working with others.
While you won't truly know if your new hire was the right choice until you work together, digging into these details will facilitate recruiting and steer you in the right direction.
Brian Torchin
| HCRC Staffing | Brian@hcrcstaffing.com | www.hcrcstaffing.com