The Business End: Guiding Your Practice through Rough Waters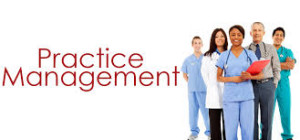 Medicine is medicine, and business is business, right? Most physicians prefer this model, choosing to focus on quality of care and the patient-doctor relationship over the drudgery of administrative and billing concerns. However, the last several years have seen a big paradigm shift in healthcare, from the big hospitals, to private practices. Whatever your opinion may be on the matter, the "Medicine is Business" mantra reflects a present reality, and if you object to having a capable, and experienced office manager in your employ, then there are certain steps you must take as the head of your practice to ensure that it survives.
Your practice is a business. There, we've said it. Now let's take a look at some of the issues plaguing many medical offices from a managerial standpoint, and what measures can be taken to adequately deal with them.
Getting paid—the claims conundrum
Few people think about doctors having difficulty getting compensated for their services. It may seem strange to many, or even made-up. But the fact is that many are. The Affordable Care Act (ACA) has dramatically affected how private physicians are reimbursed for their services. One constant issue not expected to decrease any time soon is the issue of denied claims.
Yes, claim denial is up, and for a variety of reasons. However, the most common causes of this trend might not be what you think. Denials are most commonly caused if the claim is unreadable, not specific enough, lacking information, or not filed on time. These issues can be remedied through increased organization, and administrative savvy.
To avoid denied claims, physicians must immerse themselves in every small detail to submit a "clean" claim. Some practices have made their own pre-billing checklists to prevent errors, as well as manuals documenting the details of completing claims from every insurer their patients use. This makes certain that the claims you submit to your more "temperamental" trading partners are as clear and precise as possible. Have your billers (remember them?) keep a list of general payer deadlines, and have them track and document each payer's receipt of claim submissions when possible. Lastly, if a claim is denied, definitely appeal it, as a very high percentage of claim denials are made erroneously.
Getting paid—co-pays and deductibles
Patients who sign up for plans under the ACA have ninety days to pay their premiums. Many of their plans also have higher co-pays and deductibles than others. What this can equate to is a higher collection burden on the part of the provider. Physicians should not only push to collect co-payments at the time of service, but, if possible, implement alternative payment options like online and mobile payment processing. To head off the issue of delinquent payment, schedule automated and recurring payment plans that collect from credit cards or directly from bank accounts.
But this leads to another issue. The culture of your practice is one of caring, professionalism, and integrity. The idea of payment taking precedent over treatment is simply unpleasant, for you and your patients. But there are subtle, respectful ways to open a dialogue with patients early on about payment. Pay careful attention to language. Don't ask "if" they will be able to pay for treatment, but if they've thought about "how". "How" opens up the idea of options, and solutions. Remind them before their next appointment that a co-pay will be due, and have an estimate of what it might be.
Make sure your staff are up to date on all payment options and procedure costs. It would be wise to train them on how to communicate up-front payment with patients, just as it is wise to task a certain employee with the appeal duties mentioned above.
Hire right to solve administrative problems
Many doctors find themselves bogged down in more and more paperwork each week. What truly gives them satisfaction—patient care—is at odds with tasks like documentation. As we addressed in a previous post, keeping up with technological changes, like ICD-10, can also take up a lot of time. If too much time is spent struggling with administrative issues, it leaves less time to see patients each day, costing you money in the long run. The key here is delegating certain tasks to the right staff, and so is hiring the right staff.
A common trait shared by many great leaders is the ability to spot strengths and weaknesses in their subordinates. It is from this assessment that they delineate jobs and tasks to worthy candidates. A leader also has a keen eye for function, whether or not a certain process is time consuming and costly. You must know all of the jobs performed by the rest of your team in order to train your staff. Make the culture of your office clear to potential hires, and remember when hiring that your current employees' personal networks are yours as well.
Mastery of both information and process on the part of you and your staff are paramount to keeping afloat in a sea of red tape, regulations, and paper work. In addition, know your practice, and know your staff to untangle procedural and administrative knots.
Brian Torchin
| HCRC Staffing | Brian@hcrcstaffing.com | www.hcrcstaffing.com
– See more at: http://3.228.224.47/blog/#sthash.regjTzUx.dpuf